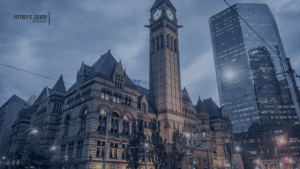 As a business owner, contractor, or tradesperson, chasing down outstanding balances from clients is a dreadful experience that happens more often than it should. Similarly, as a consumer, you may have purchased defective goods or received faulty service. – these are the most common reasons why people file Small Claims suits.
What Is Small Claims Court?
In Ontario, the Small Claims Court is a branch of the Superior Court of Justice. Civil claims that involve monetary disputes up to $25,000.00 are handled here. The higher courts of the Superior Court of Justice deal with larger claims. The processes and procedures of the Small Claims Court are structured in a manner that makes it easier and more seamless. For example, the forms in the Small Claims Court use a fill-in-the-blank style. Typically in the Small Claims Court, the deputy judges are senior lawyers who are appointed to preside over the proceedings. A party may represent themselves in the Small Claims Court but are often represented by a lawyer, a law student or a paralegal. The more complex the factual or legal issues, the more sense it makes to have someone represent you.
Claims in the Small Claims Court
The Small Claims Court deals with actions for the payment of money or for the recovery of possession of personal property where the amount claimed or the value of the property does not exceed the amount of $25,000.00, excluding interest, court costs and any legal fees that may be awarded. Common examples include:
unpaid accounts for goods or services sold and delivered
unpaid loans
property damage
breach of contract
defective merchandise
How to Begin a Small Claim Action
Once ready, a claim can be filed at one of the many court offices across Ontario listed here. If you are involved in a legal dispute, let Jeffrey C. Silver represent you and protect your interests. He will be there for you every step of the way.
For more information on Small Claims Courts, visit The Attorney General.