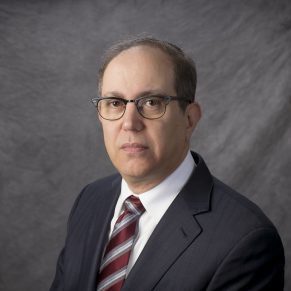 Bar Admission: 1988

Education:
• University of Toronto (B.A.)., Economics, History and Psychology - 1983
• Osgoode Hall Law School (LLB) – 1986

Jeffrey C. Silver is a senior commercial litigation lawyer with 30 years of trusted experience involving a broad range of matters. He is innovative and creative. As a result, Jeffrey C. Silver has leading cases which developed the law, including those in the areas of both contract formation and construction lien law and has obtained success for his clients in very difficult fact scenarios.
Mr. Silver articled with a firm which specialized in securities law and, in particular, mining securities. In 1988, Mr. Silver joined one of the first boutique litigation firms, Raymond H. Raphael and Associates. During his nine years there, he worked on numerous complex litigation matters. In 1999, he then established his own firm where he continues to deal with complex litigation.
Mr. Silver has acted for clients in a wide range of professions, businesses and industries including architects, accountants, manufacturers and small business people. In the area of construction law, Mr. Silver has represented high-end luxury custom home and condominium builders, general contractors, trades, sub-trades and suppliers. His construction and construction lien experience includes deficiency claims, delay claims, claims for extras and professional negligence.
Mr. Silver spent a number of years on the Executive Committee of the Ontario Bar Association and is now an active member of the Advocates' Society. He is involved in developing seminars on legal ethics and professionalism that are accredited by the Law Society of Upper Canada. He has also served as a Director for a large not for profit institution.
Gregorio v. Intrans-Corp., 1994, 72 OAC 51
In this products liability case dealing with a transport truck, it was successfully argued at trial and upheld by the Court of Appeal for Ontario that a limitation period in a warranty could not be relied upon since it was provided to the purchaser after the contract had already been formed. This decision was precedent setting in that regard. The defendants' ground of appeal based on the Sale of Goods Act was also dismissed and the trial decision in favour of Mr. Gregorio upheld.
International Wall 2011 ONSC 6920 and 2010 ONSC 5209
International Wall was successful at trial in this complex Construction Lien matter. The trial decision was upheld on appeal (opposition to confirmation of reference). This was the first decision ever to find that a construction lien master on a reference had inquisitorial powers, a power that a trial judge does not have. International Wall was awarded substantial indemnity costs at trial.
Hydroxyl Environmental Inc. v. Mepham et al. October 16, 2017
A successful motion staying the action was brought on behalf of one of the defendants under the Corporations Information Act and under Rule 15.02 of the Rules of Civil Procedure, the latter dealing with whether a lawyer had proper authorization to commence an action for a corporation. This was one of the very few times such a motion was successful under the Corporations Information Act.
Bank of Montreal v. Dimitri's Service Center Inc. 2008 ON SCDC 47727
An Order obtained on a motion made without notice by the Bank of Montreal allowing the seizure and sale of the defendants' equipment was successfully overturned. The lower court's decision setting aside the Order was then upheld by the Divisional Court.
Edelstein v. Snowview Bancorp Inc. 2009 ONSC 59688 and 2009 ONSC 59689
The plaintiff's motion was successfully opposed. With respect to payment of costs, of three different sets of defendants, only the defendants represented by Mr. Silver were awarded their costs on a substantial indemnity basis.
Tan-Jen Ltd. v. Lax [2002] O.J. No. 1193
The plaintiff was entirely successful in this Construction Lien action which had numerous experts testify at the trial.
Bnei Akiva Schools v. Sovereign General 2016 ONSC 383
The insurance company's motion to stay the action so that the appraisal procedure under the Insurance Act could took place was successfully opposed.
Bridlepath Progressive Real Estate Inc. v. Unique Homes Corp. [1992] O.J. No. 2661
The defendant's motion to set aside a default judgment was successfully opposed. Not only was the defendant ordered to pay the plaintiff's costs, but the defendant's lawyers were also held liable to pay those costs, which is an extremely rare occurrence.
1150402 Ontario Inc. v. Delfino [2003] O.J. No. 183
The plaintiff was successful on numerous grounds and in numerous ways against one set of defendants in this Construction Lien trial. Findings of breach of contract and breach of trust were made. One of these defendants was found personally liable as being the alter ego of his company. In addition to obtaining an award of general damages and of punitive damages against these defendants, the plaintiff also obtained a tracing order.
Mutual Trust Co. v. Sanati [1993] O.J. No. 2770
The lender moved for summary judgment on a mortgage. Mr. Silver successfully resisted the relief sought on the covenant of the mortgage based on the mortgage appearing not to comply with various sections of the Interest Act.
Gaspar v Scotia Mortgage Corporation and Bank of Nova Scotia – November 4, 1999
Mr. Silver acted for a widow claiming there was a life insurance policy with respect to a mortgage. Although both she and her late husband had signed a waiver declining life insurance on the mortgage and although her late husband never would have medically qualified for such insurance in any event, Mr. Silver was nonetheless successful in having the mortgage discharged from title.
Professional Activities
Ontario Bar Association – Past Member of the Executive Committee for Litigation
The Advocates' Society
Developing seminars in legal ethics and professionalism